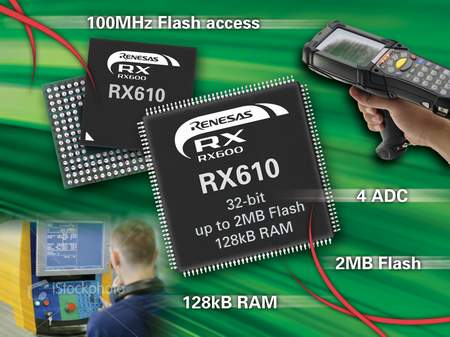 SCIOPTA Systems AG is announcing the immediate availability of the SCIOPTA Real-Time Operating Systems for the Renesas RX600™ based MCUs.
The SCIOPTA RX600 RTOS is specifically tuned for the RX600 processors. This results in a very high performance and a low memory footprint. Beside the fast Real-Time Kernel there is IPS (Internet Protocols, TCP/IP), IPS Applications (Web Server, DHCP, DNS, SMTP, Telnet, TFTP etc.), SFFS (Flash File Systems), USB support, embedded GUI graphics support and the DRUID System Level Debugger available.
SCIOPTA is royalty free and supports actually the C/C++ compilers and environments from GNU GCC and IAR Systems.
Renesas RX600
The Extreme Evolution to embedded systems led by Renesas' new RX MCU family. Equipped with a new-generation core, the RX family can respond to the ever-increasing demands and challenges on the MCUs of today and tomorrow.
Even higher performance, greater code efficiency, lower power consumption, and more integration have been achieved, while providing legacy, enhanced and new peripheral functions for many applications.
The RX family offers mid-range MCUs that Renesas proudly proclaims will be the next-generation world standard of the #1 MCU supplier.
The RX600 is the high-speed and high-performance series in the RX family.
The series is positioned as the upward successor to the H8SX and R32C, the 32-bit families of Renesas MCUs. Already released are the RX610 Group suitable for photocopiers, laser beam printers, home audio systems, and so on, the RX621 Group and RX62N Group suitable for networking equipment with enhanced connectivity and fail-safe functions, and the RX62T Group suitable for energy-saving motor and other inverter control applications.