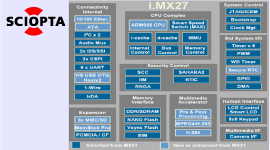 SCIOPTA Systems AG is announcing the immediate availability of the SCIOPTA Real-Time Operating Systems for the Freescale i.MX27 Applications Processor.
The SCIOPTA i.MX27 RTOS is written in highly optimized assembler and specifically tuned for the i.MX27 processor. This results in a very high performance and a low memory footprint.
SCIOPTA is fully dynamic. All system resources such as modules, processes and message memory pools can be created and killed during run-time.
Beside the fast Real-Time Kernel there is IPS (Internet Protocols, TCP/IP), IPS Applications (Web Server, DHCP, DNS, SMTP, Telnet, TFTP etc.), SFFS (Flash File Systems), USB support, embedded GUI graphics support and the DRUID System Level Debugger available.
SCIOPTA is royalty free and supports actually the C/C++ compilers and environments from GNU GCC and IAR Systems. A precompiled version of GCC is included on the SCIOPTA CD.
Freescale's® i.MX27
In response to the needs of design engineers tasked with pushing the performance envelope, packing in a lot of connectivity options and providing robust security in mobile device designs, Freescale presents the i.MX27 multimedia applications processor.
Derived from the popular i.MX21 processor and based on the ARM926EJ-S™ core, the i.MX27 processor adds an H.264 D1 hardware codec for high-resolution video processing, an Ethernet 10/100 MAC, security, plug-and-play connectivity and more power management features. This rich feature set makes it an excellent choice for video- and voice-over-IP (V2IP) cordless and mobile phones, intelligent remote controls, point-of-sale terminals and many other wireless applications.
The i.MX27 multimedia applications processor is architected with Freescale's Smart Speed™ technology, an intelligent integrative approach that uses hardware accelerators to offload the CPU and a crossbar switch to bring parallelism to the system. The result is a processor that performs like a much higher MHz device, but conserves power for long, long battery life.
The i.MX27 CPU Complex includes: ARM926EJ-S 400 MHz core, 16 KB L1 I-Cache and D-Cache, 16-channel DMA, ETM real-time debug and Smart Speed switch
Multimedia support includes: MPEG-4 H.263/H.264 D1 HW codec, Pre and post processing and High-speed CMOS sensor interface
External Memory Interface (EMI) includes: SDRAM 16/32-bit, 133 MHz, DDR 16/32-bit, 266 MHz, NAND flash 8/16-bit and PSRAM support
Internal connectivity includes: 10 and 100 Mbps Ethernet/IEEE® 802.3MAC, USB OTG high speed, host x 2, 3 x MMC/SD, Memory Stick-Pro™, PCMCIA/CF, ATA-6 (HDD) interface, Audio MUX, IrDA, keypad, 1-wire and Configurable SPI x 3, SSI/I2S x 2, UART x 6.