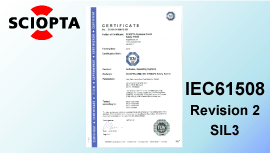 SCIOPTA Systems AG is announcing the immediate availability of the SCIOPTA Real-Time Operating System Version 1.9.7 certified to IEC61508 (Revision 2, 2010) and EN50128 (Revision 2, 2011) by TÜV Munich for the ARM7/9, Cortex-M and Cotex-R4F based Microcontrollers to be used in safety related systems up to SIL3.
The SCIOPTA Safety Kernel is written in highly optimized assembler and specifically tuned for the ARM/Cortex microprocessors. This results in a very high performance and a low memory footprint.
The SCIOPTA Safety Kernel has been developed according to: risk level SIL3 (IEC61508-3) and SIL3/4 (EN50128). It has been tested by TÜV according to: IEC 61508-1:2010, IEC 61508-3:2010, IEC61508-4:2010 and EN 50128:2011.
The SCIOPTA Safety Kernel delivery contains the Certificate, the Certfication Report of Functional Safety and the Safety Manual, which provides guidance on how to safely use SCIOPTA.
SCIOPTA is royalty free and is certified to be used with the IAR ARM C/C++ Compiler, IAR ARM Assembler and IAR ARM Linker.
About IEC61508
IEC 61508 covers functional safety of safety-related systems that use electrical and/or electronic and/or programmable electronic (E/E/PE) technologies. The standard applies to these systems irrespective of their application.
An E/E/PE safety-related system covers all parts of the system that are necessary to carry out the safety function (i.e. from sensor, through control logic and communication systems, to final actuator, including any critical actions of a human operator).
The Standard Consists of 7 Parts:
IEC 61508-1, General requirements
IEC 61508-2, Requirements for electrical/electronic/programmable electronic safety-related systems
IEC 61508-3, Software requirements
IEC 61508-4, Definitions and abbreviations
IEC 61508-5, Examples of methods for the determination of safety integrity levels
IEC 61508-6, Guidelines on the application of IEC 61508- 2 and IEC 61508-3
IEC 61508-7, Overview of measures and techniques