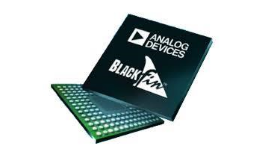 SCIOPTA Systems AG has ported the safety certified SCIOPTA Real-Time Operating Systems to the Analog Devices Blackfin processors.
The SCIOPTA Blackfin RTOS is specifically tuned for the Analog Devices Blackfin processors. This results in a very high performance and a low memory footprint.
SCIOPTA Blackfin is certified according to IEC61508 SIL3, EN 50128 SIL3/4 and ISO 26262 ASIL D.
Beside the fast Real-Time Kernel there is IPS (Internet Protocols, TCP/IP), IPS Applications (Web Server, DHCP, DNS, SMTP, Telnet, TFTP etc.), SFFS (Flash File Systems), USB support, embedded GUI graphics support and the DRUID System Level Debugger available.
SCIOPTA is royalty free and supports actually the Analog Devices CrossCore® Embedded Studio software development platform.
Analog Devices Blackfin Processors
Blackfin Processors are a new breed of 16-32-bit embedded microprocessor designed specifically to meet the computational demands and power constraints of today's embedded audio, video and communications applications. Based on the Micro Signal Architecture (MSA) jointly developed with Intel Corporation, Blackfin Processors combine a 32-bit RISC-like instruction set and dual 16-bit multiply accumulate (MAC) signal processing functionality with the ease-of-use attributes found in general-purpose microcontrollers. This combination of processing attributes enables Blackfin Processors to perform equally well in both signal processing and control processing applications-in many cases deleting the requirement for separate heterogeneous processors. This capability greatly simplifies both the hardware and software design implementation tasks.
The Blackfin Processor family also offers industry leading power consumption performance down to 0.8V. This combination of high performance and low power is essential in meeting the needs of today's and future signal processing applications including broadband wireless, audio/video capable Internet appliances, and mobile communications.
All Blackfin Processors offer fundamental benefits to the system designer which include:
High-performance signal processing and efficient control processing capability enabling a variety of new markets and applications.
Dynamic Power Management (DPM) enabling the system designer to specifically tailor the device power consumption profile to the end system requirements.
Easy to use mixed 16-/32-bit Instruction Set Architecture and development tool suite ensuring that product development time is minimized.