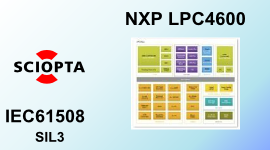 SCIOPTA Systems AG has ported the safety certified SCIOPTA Real-Time Operating Systems to the NXP LPC4300 series dual-core CPUs.
The SCIOPTA LPC4300 RTOS is written in highly optimized assembler and specifically tuned for the ARM Cortex-M4F and ARM Cortex-M0 cores included in LPC4300. This results in a very high performance and a low memory footprint.
SCIOPTA LPC4300 is certified according to IEC61508 SIL3, EN 50128 SIL3/4 and ISO 26262 ASIL D.
Beside the fast Real-Time Kernel there is IPS (Internet Protocols, TCP/IP), IPS Applications (Web Server, DHCP, DNS, SMTP, Telnet, TFTP etc.), SFFS (Flash File Systems), USB support, embedded GUI graphics support and the DRUID System Level Debugger available.
SCIOPTA is royalty free and supports actually the C/C++ compilers and environments from GNU GCC and IAR Systems Embedded Workbench. A pre-compiled version of GCC is included on the SCIOPTA CD.
NXP LPC4300 CPU
The aysmmetric dual-core architecture of the LPC4300 series combine an ARM Cortex-M4F and Cortex-M0 coprocessor core so tasks can be strategically partitioned for higher performance and efficiency. Equipped with digital signal processing with the connectivity and simplicity of a MCU and the ability to crunch complex algorithms for data-intensive applications, the LPC4300 provides a seamless upwards migration path from the LPC1800 MCUs for more processing power.
The LPC4300 are ideal solutions for: High-throughput applications requiring fast data-handling peripherals, High-speed digital and/or analog data acquisition, Smart meters, embedded audio, industrial automation, industrial control, telematics, white goods, power management, point-of sale devices, medical devices, and automotive accessories.
It has a 204 MHz, 32-bit ARM Cortex-M4 and a 204 MHz, 32-bit ARM Cortex-M0 asymmetrical coprocessor, up to 1 MB Flash, up to 264 kB SRAM, two High-speed USB 2.0 interfaces (on-chip high-speed PHY), LCD interface, ethernet MAC, unique Quad-SPI Flash Interface, unique state configurable timer subsystem, unique serial GPIO and up to 164 GPIO.