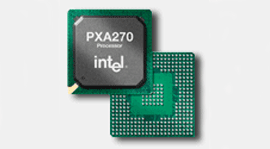 SCIOPTA Systems AG is announcing the immediate availability of the SCIOPTA Real-Time Operating Systems for the INTEL PXA270 processor.
The SCIOPTA PXA270 RTOS is written in highly optimized assembler and specifically tuned for the PXA270 processors. This results in a very high performance and a low memory footprint.
SCIOPTA is fully dynamic. All system resources such as modules, processes and message memory pools can be created and killed during run-time.
Beside the fast Real-Time Kernel there is IPS (Internet Protocols, TCP/IP), IPS Applications (Web Server, DHCP, DNS, SMTP, Telnet, TFTP etc.), SFFS (Flash File Systems), USB support, embedded GUI graphics support and the DRUID System Level Debugger available.
SCIOPTA is royalty free and supports actually the C/C++ compilers and environments from GNU GCC and ARM RealView. A precompiled version of GCC is included on the SCIOPTA CD.
Intel PXA270 Processor
Today's embedded applications demand a unique set of features, packaging, product life cycle and performance. Because Intel solutions deliver key technologies that help drive functionality to new heights, the Intel® PXA270 processor is designed to meet the growing demands of a new generation of leading-edge embedded products. Featuring advanced technologies that offer high performance, flexibility and robust functionality, the Intel PXA270 processor is packaged specifically for the embedded market and is ideal for the low-power framework of battery-powered devices.
Product Highlights
The Intel PXA270 processor is the first Intel XScale® technology-based processor to include Intel® Wireless MMX™ technology. This enables high-performance multimedia acceleration with an industry proven instruction set.
Another innovative feature is the Intel® Quick Capture technology, which provides one of the industry's most flexible and powerful camera interfaces for capturing digital images and video.
The new capabilities of Wireless Intel SpeedStep® Power Manager technology provide a quantum leap forward in low-power operation, while maintaining the highest levels of performance.