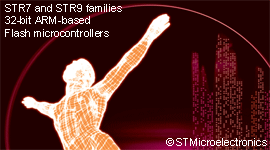 Today SCIOPTA Systems AG is announcing the immediate availability of the SCIOPTA Real-Time Operating Systems for the STMicroelectronics© STR7/STR9 ARM-based Microcontrollers.
The SCIOPTA STR7/9 RTOS is written in highly optimized assembler and specifically tuned for the STR7/9 Processors. This results in a very high performance and a low memory footprint.
SCIOPTA is fully dynamic. All system resources such as modules, processes and message memory pools can be created and killed during run-time.
Beside the fast Real-Time Kernel there is IPS (Internet Protocols, TCP/IP), IPS Applications (Web Server, DHCP, DNS, SMTP, Telnet, TFTP etc.), SFFS (Flash File Systems), USB support and the DRUID System Level Debugger available.
SCIOPTA is royalty free and supports actually the C/C++ compilers and environments from GNU GCC, ARM RealView and IAR. A precompiled version of GCC is included on the SCIOPTA CD.
STR7/9 ARM-based Microcontrollers
A leading MCU provider for more than 10 years, STMicroelectronics© has a strong foothold in the embedded market and is an innovator in embedded Flash technology. Since 2004, STMicroelectronics© has brought the power of 32-bit ARM® processor cores to the world of microcontrollers, opening endless opportunities to embedded system designers by making control and connectivity applications easy and affordable.
STR7 (ARM)- 32 bit Microcontrollers
The STR7 family of 32-bit microcontrollers combines the industry-standard ARM7TDMI® 32-bit RISC core, featuring high performance, very low power, and very dense code, with a comprehensive set of peripherals and ST's latest 0.18µ embedded Flash technology in the STR710, STR730 and STR750 ranges. The STR7 family comprises a wide range of devices fully loaded in generous packages or optimized in low pin-count packages.
STR9 (ARM)- 32 bit Microcontrollers
STMicroelectronics© brings the power of an ARM9E™ processor core to the world of general purpose Flash microcontrollers, opening endless opportunities to embedded system designers by making networking and other demanding applications easy and affordable.
The STR910F family of MCUs delivers up to 96 MIPS peak performance while executing code directly from its Flash memory, executes single-cycle DSP instructions within its ARM966E-S® core, and includes Ethernet, USB, and CAN interfaces. These features, combined with Flash memory sizes reaching 544Kbytes and a vast 96Kbyte SRAM, make the STR910F an ideal single-chip solution to transform embedded control applications into low cost nodes on a local network, or on the Internet.